Hire the best acoustic guitarists for parties, birthdays, fundraisers, dinner dance, and any other private or corporate entertainment event in Australia. We have the most talented acoustic guitarists working with us to provide world class entertainment for your event. Be ready to be impressed at your next event with our professional acoustic guitarists.
What is an Acoustic Guitarist?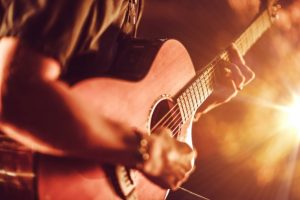 An acoustic guitarist means an instrumental musician singing live with an acoustic guitar and no backing. We have an array of highly skilled artists in the acoustic world, and with years of experience. Listening to an acoustic guitarist is just nice; it's organic and real live playing.
It is definitely not the same to listen to some music in your car, and listening to live music. Live music makes you feel safe and warm, surrounded by beautiful melodies.
Our Acoustic Guitarists Repertoire
Our acoustic guitarists will impress your guests with awesome tunes. Their varied repertoire includes different kinds of genres. Are you looking for soft music as backdrop? Be it soft music, ceremony music, reception music we have the right acoustic guitarist for you. Also, if you have a selection of songs in mind, just let us know in advance so we can give our acoustic guitarist the heads up. Your guests will be delighted with our acoustic musicians and their expectations exceeded.
Right Acoustic Guitar Tunes for the Right Audience
Have you ever experienced the ambiance created by an acoustic guitarist? The audience is surely captivated by the beauty of an acoustic guitar. We can arrange instrumental music or if you'd like we can find you an acoustic guitarist with vocals as well. Just give us a call and we will provide you with the perfect acoustic guitarist for your next event.
Beside acoustic guitarists, we offer other talented musicians in different categories that will suit your particular corporate or private entertainment needs.
Let our experienced acoustic guitarists entertain your guests at your next event. We have professional acoustic guitarists available all over Australia and Asia. Whether you are in Sydney, Canberra, Melbourne, Brisbane, Perth, Tasmania, Gold Coast, Adelaide, or Asia. Get in touch with us now so we can book the best acoustic guitarists for your next gathering or corporate event.
There is no function and or event too small or too big to handle. Our highest intention is to exceed your expectations from your initial contact with our Australian Entertainment Talent Agency to the professional entertainment such as an Acoustic guitarist and following up with our sincere thanks, appreciation and requesting any feedback you may have so we can continually provide outstanding service.
Your event or function means the world to us and just know we will always go beyond the call of duty to ensure your extremely happy with our service in whichever state of Australia you are in and in Asia and globally.