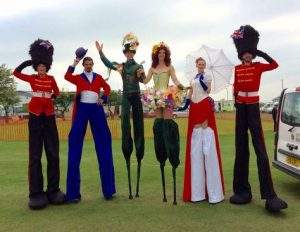 Hire the best stilt walkers for parties, birthdays, fundraisers, product launch, dinner dance, and any other private or corporate entertainment event in Australia.
We have the most talented stilt walkers working with us to provide world class entertainment for your event.
Be ready to be impressed at your next event with our professional stilt walkers in Adelaide.
Stilt Walkers is a Popular Choice for All Events
Adelaide Stilt Walkers are a spectacle and you find them in many different settings from family festivals, to corporate functions in all shapes and sizes of venues such as convention centers. Stilt Walkers Adelaide are fun to look at and offer a lighthearted approach to entertainment. Adelaide Stilt Walkers is a popular choice for any type of event. Have you tried walking on stilts… Yikes. Leave it to the professionals.
We Offer a Wide Variety of Stilts & Costumes
Stilt walking is an art in itself. It comes in many forms such as tall stilts, bouncing stilts, short stilts. It all depends on the types of costumes and the kind of movement they need to have. Stilt walkers surely catch people's attention and stand out from the crowd. We offer a wide range of costumes to suit the theme of your family event, party, function or corporate event. You can choose from animals, special characters, and more.
Why You Should Hire Adelaide Stilt Walkers
Our stilt walkers are fun, eye-catching, and friendly. They are ready to interact with customers, attendees, and make the event a memorable one. Whether you need to entertain children at a birthday party or school event, or attract possible customers for your company, our professional stilt walkers have you covered with their dazzling circus skills. Simply tell us what you are looking for, and we will provide the right stilt walkers to make your event a total hit.
Beside amazing stilt walkers, we offer other talented performers in different categories that will suit your particular corporate or private entertainment needs.
Let our experienced stilt walkers entertain your guests at your next event. We offer the best stilt walkers all over Australia and Asia. Whether you are in Sydney, Canberra, Melbourne, Brisbane, Perth, Tasmania, Gold Coast, Adelaide, or Asia. Get in touch with us now so we can book the best stilt walkers for your next gathering or corporate event.
There is no function and or event too small or too big to handle. Our highest intention is to exceed your expectations from your initial contact with our Australian Entertainment Talent Agency to the professional entertainment such as Stilt Walkers Adelaide and following up with our sincere thanks, appreciation, and requesting any feedback you may have so we can continually provide outstanding service.
Your event or function means the world to us and just know we will always go beyond the call of duty to ensure your extremely happy with our service in whichever state of Australia you are in and in Asia and globally.