Hire a Rock band in Adelaide for birthdays, family reunions, dinner dance, parties, weddings, and any other private or corporate event. Our Adelaide Rock band is comprised of the best performers who will provide first rate entertainment for your corporate event. Get ready to Shake Rattle and Roll with our Rock band.
Hurry up and Book the Best Rock Band in Adelaide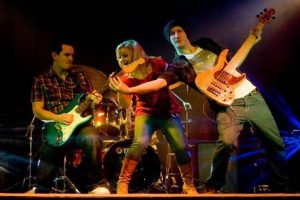 When was the last time you kicked your heels up to hip, swing, and jive to the 50's and 60's era with a Rock Band? Rock bands bring parties to life. Rock N Roll sets the tone of the event, everybody feels the music climbing through their skin, and cannot help but move from their chairs. Rock N Roll is the kind of music that is spontaneous, makes you happy; it is such a contagious feeling that leaves the best impression of the event, the organizers, and most certainly, the amazing performers.
Most Prominent Rock Stars
There are so many big names in Rock. From Elvis, Chuck Berry to Janis Joplin, and AC/DC. These people have dedicated their lives to music, entertainment, simply pleasing giant masses, and never disappointing them. They have reached people from all over the world with their legacy, influencing their moods, and their behavior.
Where does Rock N Roll come from?
Rock N Roll as we know it has its origins in the United States in the late 40s. It combines gospel, rhythm and blues, jazz, country music, boogie woogie, and others. Rock stars such as Elvis Presley, Bill Haley, Chuck Berry, and Jerry Lee Lewis hit the top charts.
Then came the 60s bringing along the Beatles, Bob Dylan, the Rolling Stones, and so many more amazing Rock N Roll representatives who helped shape this genre into what it is now.
Each era has its own charm and its own set of Rock artists. Rock has developed to be one of the most popular genres and most acclaimed among the public. It is our task to bring the Rock N Roll buzz to your event, have your guests swing to the rhythm, and just have a great time. You can't go wrong with a Rock band.
Beside Rock bands, we offer other talented musicians and bands in different categories that will suit your particular corporate or private entertainment needs.
Let our musicians entertain your events. We have Rock bands available all over Australia and Asia. Whether you are in Sydney, Canberra, Melbourne, Brisbane, Perth, Tasmania, Gold Coast, Adelaide, or Asia. Get in touch with us now so we can book the best Rock bands and performers for your next gathering or corporate event.
There is no function and or event too small or too big to handle. Our highest intention is to exceed your expectations from your initial contact with our Australian Entertainment Talent Agency to the professional entertainment such as Rock Bands and following up with our sincere thanks, appreciation and requesting any feedback you may have so we can continually provide outstanding service.
Your event or function means the world to us and just know we will always go beyond the call of duty to ensure your extremely happy with our service in whichever state of Australia you are in and in Asia and globally.