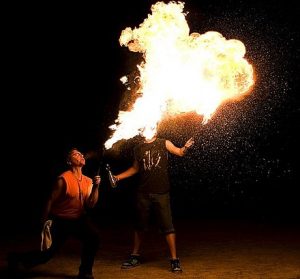 Hire the best fire breather, fire performer, or fire dancer for parties, birthdays, fundraisers, product launch, dinner dance, and any other private or corporate entertainment event in Australia. We have the most talented fire breathers working with us to provide world class entertainment for your event. Be ready to be dazzled at your next event with our professional fire breathers in Adelaide.
Why You Need To Hire A Fire Breather or Fire Performer
Fire breathers are a spectacle watch. There is something magical about watching fire breathers, it is like watching a live dragon! Fire breathing is a floorshow of entertainment for all types of functions from weddings, private birthday parties, corporate settings and festivals. Fire breathing is not something to try at home folks but more so, to watch and appreciate the level of skill and years of practice all for the sake of entertaining you and your guests with phenomenal fire breathing skills.
What Do Fire Breathers Do?
Fire breathing is also known as fire blowing, fire launch, or fire spitting. Fire breathers produce a large fireball when they spray a mist with their mouth at an open flame. The visual element that is added to the show is what makes the performance so beautiful. Fire breathers may come in forms of jugglers, fire dancers, or more. It all depends on what kind of fire breathing act you are looking for. Simply tell us what kind of function you have in mind, and we will help you choose the right fire performers.
Hire Professional and Experienced Fire Breathers
Our professional fire breathers have a vast experience doing fire shows for different audiences. They are prepared to provide a breathtaking spectacle, making sure all the necessary safety precautions are taken. Fire breathing is one of the most requested shows we have available. Surprise your guests at your next event with an stunning fire breathing show.
Beside amazing fire breathers, we offer other talented performers in different categories that will suit your particular corporate or private entertainment needs.
Let our experienced fire breathers entertain your guests at your next event. We have professional fire breathers available all over Australia and Asia. Whether you are in Sydney, Canberra, Melbourne, Brisbane, Perth, Tasmania, Gold Coast, Adelaide, or Asia. Get in touch with us now so we can book the best fire breather for your next gathering or corporate event.
There is no function and or event too small or too big to handle. Our highest intention is to exceed your expectations from your initial contact with our Australian Entertainment Talent Agency to the professional entertainment such as a Fire Breather and following up with our sincere thanks, appreciation and requesting any feedback you may have so we can continually provide outstanding service.
Your event or function means the world to us and just know we will always go beyond the call of duty to ensure your extremely happy with our service in whichever state of Australia you are in and in Asia and globally.