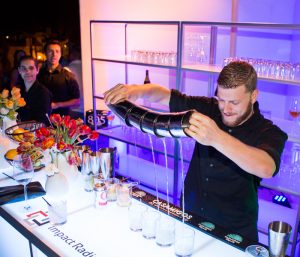 Hire the best Flair bartenders for parties, birthdays, fundraisers, product launch, dinner dance, and any other private or corporate entertainment event in Australia. We have the most talented Flair bartenders working with us to provide world class entertainment for your event. Be ready to be impressed at your next event with our professional Flair bartenders in Adelaide.
Why You Should Hire Flair Bartenders For Your Next Event
Be dazzled and entertained by our professional flair bartenders. Would you like to see flying shot glasses and shakers spinning, twirling and then having the last laugh sipping and drinking specially made cocktails? Well, look no further and give your guests something to talk about and watch their eyes light up. Your event will be the talk of the town with our experienced flair bartenders.
The Best Flair Bartenders in Adelaide
Flair bartenders undergo a great deal of practice and training to refine their skills. They are capable of preparing all kinds of cocktails, mocktails, and various drinks. Our flair bartenders will bring any party to life with their juggling skills, and put on a tremendous show. If what you are looking for is to mesmerize your guests, you will definitely do so with our superb flair bartenders.
Flair Bartenders Are The Right Type of Entertainment
If you are looking for top class entertainment for your next event, then flair bartenders is the right choice for you. They are highly skilled and just love what they do. Think of delicious drinks with added flair to add excitement to the occasion. Our flair bartenders will surely be the highlight of the event whether your hosting a small or large event.
Beside amazing Flair bartenders, we offer other talented performers in different categories that will suit your particular corporate or private entertainment needs.
Let our experienced Flair bartenders entertain your guests at your next event. We offer the best Flair bartenders all over Australia and Asia. Whether you are in Sydney, Canberra, Melbourne, Brisbane, Perth, Tasmania, Gold Coast, Adelaide, or Asia. Get in touch with us now so we can book the best Flair bartenders for your next gathering or corporate event.
There is no function and or event too small or too big to handle. Our highest intention is to exceed your expectations from your initial contact with our Australian Entertainment Talent Agency to the professional entertainment such as Flair Bartenders and following up with our sincere thanks, appreciation and requesting any feedback you may have so we can continually provide outstanding service.
Your event or function means the world to us and just know we will always go beyond the call of duty to ensure your extremely happy with our service in whichever state of Australia you are in and in Asia and globally.