Hire the best opera singer for parties, birthdays, fundraisers, dinner dance, and any other private or corporate entertainment event in Australia. We have the most talented opera singers in Adelaide working with us to provide world class entertainment for your event. Be ready to be impressed at your next event with our professional opera singers.
Delight Your Guests with The Best Opera Singers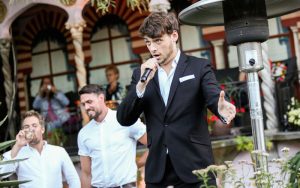 Care for something classy and elegant? Listening to an Opera singer is truly an operatic experience HA. Fancy a night out a theater, or being immersed among a crowd at a winery tour, a birthday celebration or a formal event at the convention center.
You will find Adelaide Opera singers in all manner of events. Let them entertain you with their years of skill and showmanship.
Why Should You Hire an Opera Singer for Your Next Event?
Simple, Opera singers add an air of art and sophistication to the occasion. Their music is emotional, powerful, and inspiring, their stage presence is stunning. They are just the perfect, mind-blowing element to set the tone of the event. Opera singers are the perfect addition to make the event memorable and a total success.
Types of Opera Singers
Opera singers come in many forms. Whether you'd like to have a marvelous soprano, an imposing tenor, or both, a soloist, or a cappella choir, our Opera singers will delight your guests with a wide selection of operetta, musical theatre, or classical songs. All you have to do is tell us what kind of Opera performance you are looking for, and we will arrange it for you. If you can't decide, we are here to assess you on the most suitable Opera singers for the type of event you are organizing.
Beside opera singers, we offer other talented performers in different categories that will suit your particular corporate or private entertainment needs.
Let our experienced opera singers entertain your guests at your next event. We have professional opera singers available all over Australia and Asia. Whether you are in Sydney, Canberra, Melbourne, Brisbane, Perth, Tasmania, Gold Coast, Adelaide, or Asia. Get in touch with us now so we can book the best opera singer for your next gathering or corporate event.
There is no function and or event too small or too big to handle. Our highest intention is to exceed your expectations from your initial contact with our Australian Entertainment Talent Agency to the professional entertainment such as Opera Singers and following up with our sincere thanks, appreciation and requesting any feedback you may have so we can continually provide outstanding service.
Your event or function means the world to us and just know we will always go beyond the call of duty to ensure your extremely happy with our service in whichever state of Australia you are in and in Asia and globally.