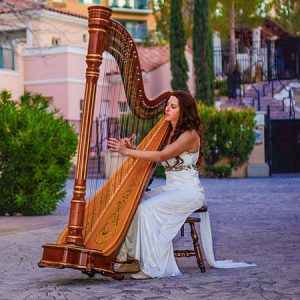 Hire the most talented harpist for parties, birthdays, fundraisers, product launch, dinner dance, and any other private or corporate entertainment event in Australia. We have the most skillful harpists working with us to provide world class entertainment for your event. Be ready to be impressed at your next event with our professional harpist in Adelaide.
A Harpist Is The Ideal Choice For Your Event
Harpists are a unique form of entertainment. We offer highly experienced, elegant, and professional harpists playing genres from Classical to even Pop tunes. It is an ideal choice for your wedding or any type of event that requires a professional harpist. The sounds of a harp are very soothing and relaxing, making the music pleasing to the ear.
Where Do Harps Come From?
Wall paintings of a bow-shaped harp were found in Egypt. These paintings date from around 3000BC. We can definitely say that harps have been hanging in there for a while. They are said to be one of the oldest musical instruments. Harps have evolved and taken different shapes throughout time. They have become popular and are played by thousands of harpists all over the world.
Impress Your Guests With A Professional Harpist
Harpists are ideal for any kind of events. Their songs are serene and beautiful, setting the most relaxing and classy atmosphere. Since our harpists offer a wide repertoire of songs, simply tell us if you have a certain preference, and they will cater for this. Delight your guests with the most pleasant harp playing skills and leave them with a lingering sense of satisfaction. Our talented harpists will surely make your event a complete success.
Beside amazing harpists, we offer other talented performers in different categories that will suit your particular corporate or private entertainment needs.
Let our experienced harpist entertain your guests at your next event. We offer the best harpists all over Australia and Asia. Whether you are in Sydney, Canberra, Melbourne, Brisbane, Perth, Tasmania, Gold Coast, Adelaide, or Asia. Get in touch with us now so we can book the best harpist for your next gathering or corporate event.
There is no function and or event too small or too big to handle. Our highest intention is to exceed your expectations from your initial contact with our Australian Entertainment Talent Agency to the professional entertainment such as talented Harpists and following up with our sincere thanks, appreciation and requesting any feedback you may have so we can continually provide outstanding service.
Your event or function means the world to us and just know we will always go beyond the call of duty to ensure your extremely happy with our service in whichever state of Australia you are in and in Asia and globally.